Thursday, September 22, 2022, 09:56
The Workplace Safety and Health (WSH) Council of the Tripartite Alliance for Workplace Safety and Health intends to issue a new code of practice focusing on the role of Company Directors on WSH and on 12 August 2022, the WSH Council has issued a Public Consultation on the proposed Code of Practice on Chief Executives' and Board of Directors' WSH Duties ("Code of Practice").

The Code of Practice is expected to be applied to all Company Directors regardless of industry and organisation size. Based on the Code of Practice, the principles and measures for Company Directors to observe and implement are summarised in the table below: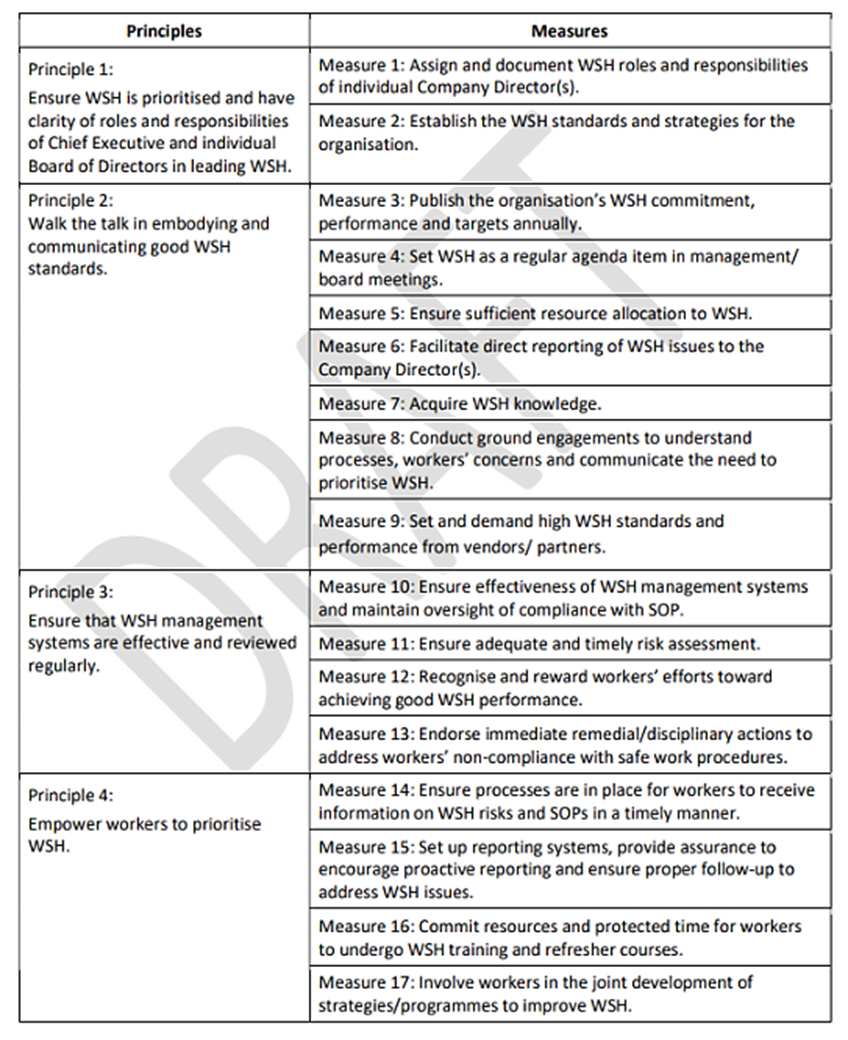 ---
Wednesday, September 29, 2021, 10:10
The Singapore Exchange Regulation (SGX RegCo) has on 26 August 2021 released consultation papers on its plans for enhancing its current sustainability reporting regime. It is proposed that these enhancements be adopted for sustainability reports and annual reports for financial years beginning on or after 1 January 2022.
Amongst the proposed enhancement by SGX RegCo are:
issuers to make climate-related disclosures based on the recommendation of the Task Force on Climate-related Financial Disclosures ("TCFD"). All issuers are to adopt climate reporting on a 'comply or explain' basis for their financial year ("FY") commencing in 2022 (reports published in 2023). From the FY commencing in 2023 onwards, climate-reporting will be mandatory for some sectors of issuers while remaining 'comply or explain' for the others.
issuers to have a board diversity policy and provide disclosures on related targets, plans and timelines in annual reports.
issuers to subject their Sustainability Reports to assurance by their internal auditors.
all directors to attend a one-time training on sustainability.
The consultation on the proposal closes on 27 September 2021.
---
Sunday, November 22, 2020, 09:43
The Accounting and Corporate Regulatory Authority ("ACRA"), the Monetary Authority of Singapore ("MAS") and Singapore Exchange Regulation ("SGX RegCo") have on 1 October 2020 updated the checklist to guide listed and non-listed entities on the conduct of general meetings to help keep physical interactions and COVID-19 transmission risks to a minimum. Issuers and non-listed companies may continue to conduct their general meetings held on or before 30 June 2021 via electronic means, and are encouraged to do so.
Should issuers and non-listed companies, after due consideration of public health and other risks, wish to conduct physical general meetings, they must ensure that they implement all relevant measures to comply with the safe management measures imposed by the Singapore Government. Despite this, Issuers must continue to make available the option for shareholders to participate in their general meetings via electronic means.
The safe management measures includes the following:
the number of attendees at any permitted premise must be kept below the specified number of persons;
issuers and non-listed companies must ensure that attendees maintain the minimum specified safe distance between individual attendees; and
issuers and non-listed companies must ensure that all attendees wear a mask at all times or otherwise comply with any specified requirements.
For conducting physical meetings, Issuers must also provide advance notice to shareholders to inform them on the number of attendees that can be accommodated at the venue and the shareholders must pre-register if they or their proxies wish to attend the general meetings in person.
---
Friday, October 16, 2020, 06:03
The Securities Commission Malaysia has on 13 October 2020 issued an update to the Guidance Note on the Conduct of General Meetings for Listed Issuers highlighting that a general meeting conducted in states or districts under CMCO shall be conducted only in a fully virtual manner, where all shareholders participate in the meeting online. This was to addressed the Conditional Movement Control Order (CMCO) which takes effect in Sabah, Selangor, Wilayah Persekutuan Kuala Lumpur and Putrajaya from 13 to 27 October 2020.
---
Tuesday, October 6, 2020, 02:01
The MACC (Amendment) Act 2018 passed by the Parliament in April 2018 introduces the new section 17A – Offence by Commercial Organizations and this new Section 17A makes company directors and senior officers liable for the corrupt acts committed by their employees, agents, business partners and associates in or outside of Malaysia regardless of whether or not they had actual knowledge of the corrupt act. This new Act will make it more difficult for employers to evade any liability by arguing that the corruption committed by their employees which they benefit from, were not on their instructions or were committed without their knowledge.
The implication of this new Act, upon conviction, is a fine of not less than 10 times the sum of gratification involved or RM1 million, whichever is higher; a maximum jail term of 20 years or both.
Under this new Act, the company can only defend a corporate liability offence if it can prove that it had "adequate procedures" in place to prevent persons associated with the company from carrying out the corrupt conduct. In view of all this, it is necessary for companies (or commercial organisation i.e. the term used in the Act) to equip themselves with adequate knowledge and procedures.
---